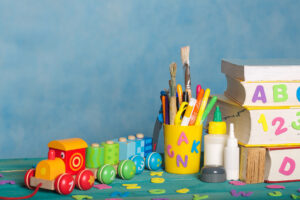 At Laurel Tree Academy, we're your easy choice for first class preschool and daycare in Mount Laurel, NJ. Our facility is based right here in town, and we offer research-based curriculums and quality care for children aged six weeks to six years, with summer camp activities when school is out.
Laurel Tree Academy was founded by Pam and Bill Cossaboon, two working parents themselves who wanted to "break the mold" of traditional chain store style daycare centers that were managed by corporations. They had grown frustrated with the "one size fits all" curriculum and the high turnover of corporate managed daycare. Pam and Bill started Laurel Tree with the goal of offering an alternative with a curriculum that was specific to each child's age and level of development.
The Laurel Tree Academy – Mt. Laurel
4106 Church Road
Mt. Laurel, NJ 08054
Phone: (856) 273-1400
Fax: 856-273-2714
Serving: Mount Laurel, Cherry Hill, Moorestown, Marlton, Maple Shade, Voorhees, Haddonfield
Our facility offers child-friendly classrooms, with colorful Learning Centers that help teach your child math, reading, science, art, and much more, and give your child a memorable learning experience. Our educational programs are rooted in playing and making learning fun, and are designed to help children develop their confidence, social skills, critical thinking, and problem solving ability. When it's play time, your child can play with other kids in our large natural playground.
Once school is out for the summer, your child can enjoy a memorable summer in our summer camp program! Our summer camp is available for kids from ages 3-9, and includes a variety of fun activities and trips, including swimming lessons, visiting magicians, and trips to super fun spots like Storybook Land and Diggerland. Your child will want to be a part of summer camp at Laurel Tree every year!
A Safe + Fun Preschool + Daycare Environment in Mount Laurel (and Summer Camp!)
Laurel Tree Academy is a New Jersey state licensed daycare provider. Our teachers and staff are experienced and qualified, and they are educated in CPR and first aid programs. Our Mount Laurel facility is protected with electronic access codes that only allow parents and children. We take every step to ensure that the area is kept sanitary and safe, as per local, state, and federally mandated guidelines. We also provide multiple health screenings for children daily.
Throughout the day, we keep you posted on your child's progress using the Brightwheel app…at any time during the day, you can take a break and view a real time feed of your child enjoying their daily activities. With Brightwheel, we can share photos, videos, and milestones to your mobile device and keep you connected with your child.
Laurel Tree carefully screens all of our caregivers, with fingerprinting and thorough background checks. Each of our caregivers has been chosen based on their background, experience, education, and character, and most of all, their dedication and love for young children.
Do you have more questions? Feel free to have a look at our Frequently Asked Questions page, and see if you can find the answers you need there. If not, we're happy to tell you more. Ask us about our programs and our facility, and the high standards we have for your child's daycare.
For preschool and daycare in Mount Laurel that you and your child will love, reach out to Laurel Tree today and schedule a tour of our facility with us. We are looking forward to meeting you and your family!
Interested in seeing our daycare center in action and the fun the kids have learning? Take the time to visit our Mt. Laurel facility Facebook page!