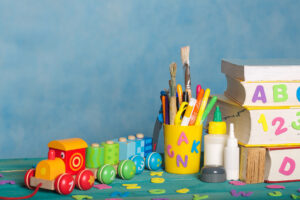 At Laurel Tree Academy, we're your easy choice for first class preschool and daycare in Mount Laurel, NJ. Our facility is based right here in town, and we offer research-based curriculums and quality care for children aged six weeks to six years.
Our facility offers child-friendly classrooms, with colorful Learning Centers that help teach your child math, reading, science, art, and much more, and give your child a memorable learning experience. Our educational programs are rooted in playing and making learning fun, and are designed to help children develop their confidence, social skills, critical thinking, and problem solving ability. When it's play time, your child can play with other kids in our large natural playground.
A Safe, Clean + Fun Preschool + Daycare Environment in Mount Laurel
Laurel Tree Academy is a New Jersey state licensed daycare provider. Our teachers and staff are experienced and qualified, and they are educated in CPR and first aid programs. Our Mount Laurel facility is protected with electronic access codes that only allow parents and children. We take every step to ensure that the area is kept sanitary and safe, as per local, state, and federally mandated guidelines. We also provide multiple health screenings for children daily.
Throughout the day, we keep you posted on your child's progress using the Brightwheel app…at any time during the day, you can take a break and view a real time feed of your child enjoying their daily activities. With Brightwheel, we can share photos, videos, and milestones to your mobile device and keep you connected with your child.
Laurel Tree carefully screens all of our caregivers, with fingerprinting and thorough background checks. Each of our caregivers has been chosen based on their background, experience, education, and character, and most of all, their dedication and love for young children.
For preschool and daycare in Mount Laurel that you and your child will love, reach out to Laurel Tree today and schedule a tour of our facility with us. We are looking forward to meeting you and your family!