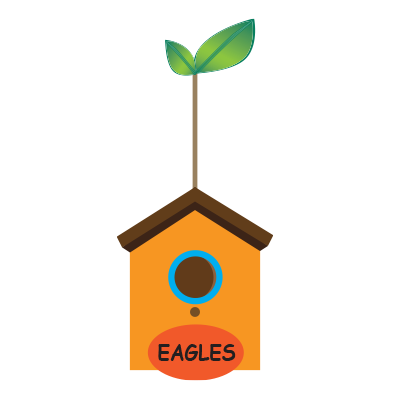 Our Pre-K program, the Eagles, prepares children for elementary school by encouraging them to PLAY! Preparing a child for elementary school is so much more than teaching them their letters and numbers. The most current research proves that children learn best by doing what they do best – PLAYING. Children at this stage of development are eager to explore the world around them by investigating, analyzing, solving problems and building knowledge. A carefully designed and teacher supported curriculum creates learning opportunities from activities that children tend to gravitate towards.
Our engaging teachers can turn playing with blocks into a hands-on math lesson that teaches:
Number operations
Geometry
Spatial sense
Pattern processing
Measurement concepts
Structured activities are still offered through circle time, number and letter games, educationally-based computer programs, field trips and themed projects/activities. Concepts that become more important in Elementary School are also reinforced. These include: learning to raise their hands, organizing their personal space, respecting authority and increasing their self-help skills.
Features of Our Pre-K Program in Mt. Laurel and Lumberton
Creating, updating and enhancing learning "centers"
Daily activities and pictures are relayed throughout the day with our parent friendly Brightwheel app
Providing a variety of age appropriate books, materials and manipulatives including drawing and writing materials in each center so children can "document" their experiences
Allowing time in the classroom schedule for teacher-facilitated discussion and reflection on experiences
Incorporating teaching strategies that encourage children to THINK about their play
Implementing lesson plans that encourage learning across the five domains; physical, intellectual, language, emotional / social and approaches to learning
Teachers trained in CPR, Early Childhood development and Health and Safety issues
Staff that are extensively screened and subject to State and Federal fingerprinting and background checks
Promoting environmental education by using nature-inspired play spaces that contain opportunities for pedaling, climbing, running, swinging, gardening, building and dramatic play
If you are a Mt. Laurel or Lumberton resident seeking Pre-K child care, we invite you to come visit our Pre-K class, and see why the Laurel Tree Academy is "A Great Place To Grow."
Pre-K Program Photo Gallery
---