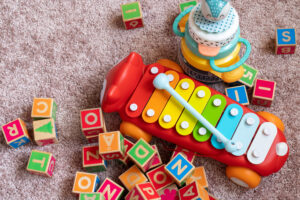 The Laurel Tree Academy is the answer to your search for summer camp, preschool and daycare in Haddonfield, NJ. Our facility is conveniently located near you in Mount Laurel, and we offer high quality daycare and educational programs for your child from age six weeks to six years, and a summer camp program for kids up to age 12. We are family owned and operated, and our founders are parents just like you, who want the best for their children.
If you've ever enrolled in one of the corporate "chain store" centers, you may have been discouraged at the lack of personalization and been concerned about employee turnover, as our founders discovered was often the case at the larger centers. We started Laurel Tree Academy to give area parents a better option…with dedicated staff members and where teachers and care providers are actively involved in children's progress.
Safe, Enjoyable Haddonfield Area Preschool, Daycare + Summer Camp
Laurel Tree features an educational program that is designed to not only make learning easier and fun for your child, but also for proven results. Educational programs include math, art, technology, science and more. We teach using the High Scope® and Handwriting Without Tears® programs that inspire your child to learn. Our programs are designed to improve your child' critical thinking, social and problem solving skills. Our facility also features a clean and large outdoor playground for the kids to blow off steam.
We keep our facility completely sanitary throughout each day, and we keep our doors locked all day and require a personalized PIN to enter the facility. As a parent, provided you have proper ID and ring the doorbell, you are welcome to view your child's progress. We conduct periodic fire drills, and have a detailed evacuation place in place if needed.
In addition, our summer camp is a popular destination for kids when school is out for the year…we fill kids' days with a variety of fun and educational activities, including swimming lessons, camp nights and more, along with trips to places kids love like Diggerland and Storybook Land. Your child will want to come back to camp every summer!
We are a licensed daycare facility in New Jersey, and we employ qualified and experienced teachers and staff who are thoroughly and carefully screened. Our staff members are CPR-certified and educated in first aid measures. Laurel Tree meets and often exceeds the standards set by the NJ Department of Children and the Families' Office of Licensing. We have many longtime members on our staff who love working here and love children.
While your child is with us, we'll also keep you posted on their progress through the Brightwheel app…our staff members will send you photos and videos that you can view on any device connected to the Internet, giving you peace of mind through the day.
We're happy to show you more about what makes Laurel Tree an ideal destination for parents seeking a summer camp, preschool and daycare in Haddonfield. Reach out to us today or schedule a tour of our Mount Laurel facility…we can't wait to meet you and your family!
If you'd like to see activities, updates and more, visit our Facebook page!