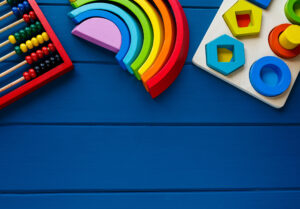 At the Laurel Tree Academy, we're your trusted choice for preschool and daycare in Mount Holly, NJ. Our new location in Lumberton is very close to Mount Holly, and we offer quality daycare services and preschool programs for children from six weeks to six years old. Our daycare also includes a summer camp for children up to age 12. Our children's center is family owned by parents just like you…and we completely understand your desire for the best care for your child.
The founders of Laurel Tree Academy, Pam and Bill Cossaboon, learned as new parents that the "chain store" corporate daycare centers were more interested in quantity of children than in personalization, and that there was too much employee turnover. Pam and Bill decided to start their own preschool and daycare to provide a better option for local families, where teachers and care providers are actively involved in children's growth.
Safe, Clean and Fun Mount Holly Area Preschool + Daycare
Our educational curriculum is designed to make learning both easy and fun for your child, and we incorporate High Scope® and Handwriting Without Tears® programs that show proven results. The curriculum includes art, science, math, literacy, technology and more, and focuses on improving your child's social, problem solving and critical thinking skills. We ensure that our facility is clean and sanitary throughout the day, and it features a playground for the kids to blow off steam at play time.
We take all of the necessary steps for security – we keep our doors locked through the day and require a personalized PIN to enter the building. Parents are, however, invited to sit in with their child's learning…they are required to have identification and to ring the doorbell. We conduct fire drills on a regular basis, and have an evacuation plan in place if needed.
When school is out for the summer, ask us about our popular summer camp program! In summer camp your child will be involved in a variety of activities, including swimming lessons, camp night and visiting magicians, along with multiple trips to popular destinations like Storybook Land, Diggerland and much more. Your child will want to come back to our summer camp every year!
The Laurel Tree Academy is a New Jersey state licensed institution, and we employ teachers who are fully qualified and experienced. We carefully screen all of our employees, and they are all CPR-certified and educated in first aid measures. In many cases, our safety measures exceed the standards of the NJ Department of Children and the Families' Office of Licensing. Laurel Tree has very little turnover…our staff members love children and love working here.
In addition, while your child is with us, you can stay connected throughout the day with the Brightwheel app. We'll continually post videos and pictures of your child's progress, which you can view anytime from any device and ensure your peace of mind.
We'd be happy to tell you more about what makes us ideal for parents searching for preschool and daycare in Mount Holly. Contact us or schedule a tour of our facility today…we're looking forward to meeting you and your family!
For updates, activities and more, be sure to visit our Facebook page!